8 facilities which links Daisetsu - Furano - TOKACHI
■Daisetsu
Garden that enjoys flowers with magnificent nature at plateau named scenery of Daisetsu mountain range NO.1.
■Asahikawa
We think about garden which a certain characteristic plant to match climate of northern country create with "Hokkaido garden" and make gardens.
■Furano
Many people visit garden which became stage of "Kaze-no Garden" of Satoru Kuramoto script and attract public attention.
■TOKACHI
It is in the foot of Mts. Hidaka and can enjoy nature of overwhelming scale and various gardens.
It is famous as first Japanese konifagaden. Precious collection left from the reclamation past is worth seeing.
Garden that featured the theme of flowers and vegetables or fruit tree changing expression every season invites you.
Ambitious horticulturist, Akiha Shichiku to "make Hokkaido island of flower" deal.
We bring up flower of field which Naoyuki Sakamoto of painter drew in forest and can enjoy work in memorial.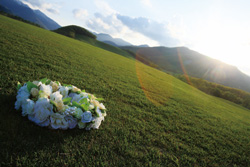 Longed-for garden wedding
Many gardens of garden way perform wedding. Including green lawn, rich forest, colorful flower is characteristic each. For more details, please refer to each garden.